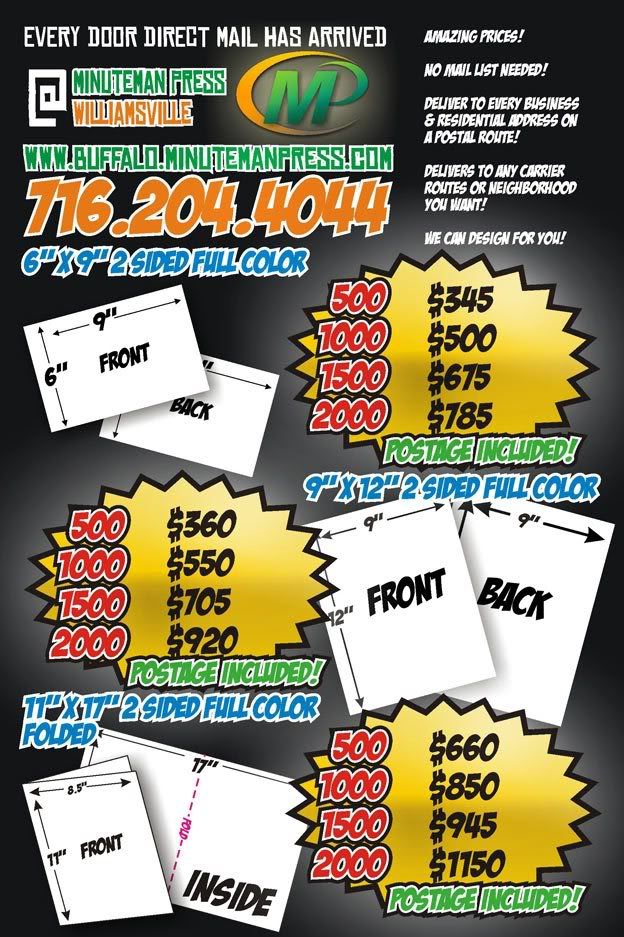 Click to Enlarge Price List.

EDDM Mailing has arrived at Minuteman Press Williamsville!
What is EDDM?
EDDM stands for Every Door Direct Mail. Essentially it's mailing to whole postal routes without need of a mailing list.

What makes EDDM so great for business?
With EDDM mailings, you get the ultra competitive postage rate of 15 cents per piece! When was the last time you mailed anything for only 15 cents? EDDM is also very selective. You can specify which postal routes get your marketing piece and which don't. If for instance, you wanted to have your piece arrive at every home and business in an affluent neighborhood, we can arrange that! Maybe you're in the home repair business and want to hit postal routes in your area known for older homes; we can arrange that too!

How can I get involved with an EDDM marketing piece?
To the right is a list of standard sizes and prices for different quantities. These prices already include postage and graphic design for your piece! All you need to decide is how many pieces will be going out and where you want them to hit! If you want a larger quantity or a different size, contact us at 716.204.4044 and we can quote you for a custom order!